LPC
Number of Research Groups:05
Number of Researchers:36
Full Name of Laboratory Director:prof . CHORFI med seghir
Domiciliation:
Department of Psychology /Faculty of Social and Human Sciences

Land phone/Fax number:036661178
Mobile number:

0661 56 90 28
Email:This email address is being protected from spambots. You need JavaScript enabled to view it.
Creation date: 25/03/2010
Order number: 93
The laboratory of Clinical Psychology is assigned a fundamental task for the study of normal and pathological behavior. This involves different dimensions, such as the bio-psycho-social dimension in its cultural and anthropological interactions.
To meet our objectives, we aim to describe concretely and precisely the different practices of psychologists and show what they bring to human reality by adopting a humanistic and comprehensive approach.
It is essential that clinical psychologists forge a personal definition to their professional identity, and particularly in this difficult economic environment.
The cornerstone of our research objective would be to include clinical psychology from a global and holistic perspective of the envisaged individual both in his personal and trans-generational history.
Finally, our ultimate goal is to reach the psychological excellence, the ability to mobilize and optimally exploit all the resources needed to achieve the human objectives.
Scientific research and technological development

Research about problems with social and cultural implications, or to understand vulnerability of certain social psychopathology.

Research should thus allow us to answer the following three questions:

-How to pass from a general concept or a basic model to a professional practice focused on a particular goal which is socially inserted.

-How to pass from a general methodology to effective social practices.

-How to model new knowledge rooted in the ground realities, which are derived from its issues.
Equipes de recherche
Team1
Team2
Team3
Team4
Team5
Title of Team 1

Pathologies of thepsychological developmentof the childand adolescent

Acronym

PPDCA

Location

Fshs

Chairman

Chorfi Mohamed Séghir

Rank : Full Professor

List of team members' names ordered according to the their highest rank

Full Name

Highest Degree Obtained

Rank

Speciality

Institution

Chorfi M S


Doctorate

FP

Clinical Psychology

Univ. setif2

Ameur Nora

Doctorate SC

ALA



Clinical Psychology

Univ. oeb

Zerdoum Khadidja

Magister

ALA

Clinical Psychology

Univ. batna

Taleb Hanane

Magister

ALA

Clinical Psychology

Univ. setif2

Hafri Zahia

Magister

ALA

Clinical Psychology

Univ.setif2

Fassi Amel

Magister

ALA

Clinical Psychology

Univ.setif2

DJEDOU ABD LAHFID

Magister

ALA

Clinical Psychology

Univ.setif2

CALLI DJENET

Magister

ALA

Clinical Psychology

Univ.setif2

BELHAJ FATIMA

Magister

ALA

Clinical Psychology

Univ.setif2

ZERDOUM ABD ALELHAFID

Magister

ALA

Clinical Psychology

Univ.setif2

BELHADJ AMIRA

Magister

ALA

Clinical Psychology

Univ.setif2
Title of Team2

Families, groups and Institutions

Chairman

Maarouf Lamnouar

Rank : APA

List of team members' names ordered according to the their highest rank

Full Name

Highest Degree Obtained

Rank

Speciality

Institution

Maarouf Lamnouar

Doctorate

APA

Clincal Psychology

Univ.setif2

Amardjia nacerdine

Doctorate

APA

Clincal Psychology

Univ.setif2

Tighlit salah edine

Doctorate SC

APA

Clincal Psychology

Univ.setif2

Aziez Ghania

Magister

ALA

Clincal Psychology

Univ.setif2

Benyazar Farida

Magister

ALA

Clincal Psychology

Univ.setif2

Benabdallah Fouzia

Magister

ALB

Clincal Psychology

Univ.setif2
Title of Team3

Groups and Pathologies

Acronym

GP

Team Home Page

Localisation

Fshs

Chairman

Azoui Mhemed

Rank : Full Professor

List of team members' names ordered according to the their highest rank

Full Name

Highest Degree Obtained

Rank

Speciality

Institution

Azoui Mhemed

Doctorate

FP

Clinical Psychology

Univ.setif2

Sahraoui Azdine

Doctorate

FP

C. Psychology

Univ.setif2

Djarallah Slimane

Magister

ALA

Clinical Psychology

Univ.setif2

Boutheldja Mokhtar

Magister

ALA

Clinical Psychology

Univ.setif2

Ait madjbar Badiaa

Magister

ALA

Clinical Psychology

Univ.setif2

Laoudj Mabrouk

Magister

ALB

Clinical Psychology

Univ.setif2
Title of Team 4

Training Didactics

Localisation

University setif2

Chairman

Keskes said

Rank : FP

List of team members' names ordered according to the their highest rank

Full Name

Highest Degree Obtained

Rank

Speciality

Institution

Keskes said

Doctorate

FP

CP

Univ.setif2

Belfarhi Khadidja

Magister

ALA

CP

Univ.setif2

Benzoukh Halima

Magister

ALA

CP

Univ.setif2

Bouras Haroun

Magister

ALA

CP

Univ.setif2

Choubane Samia

Magister

ALA

CP

Univ.setif2

Khaloufi Aicha

Magister

ALA

CP

Univ.setif2

Mirza Chahrazed

Magister

ALA

CP

Univ.setif2

Mosbah Rafik

Magister

ALA

CP

Univ.setif2
Title of Team5

Society. Communication and Development

Chairman

Naoui Djemai

Rank : APA

List of team members' names ordered according to the their highest rank

Full Name

Highest Degree Obtained

Rank

Speciality

Institution

Naoui Djemai

Doctorate

APA

Psychology

Univ.setif2

Boukechour Mohamed

Doctorate SC

APB

Sociology

Univ.setif2

Nouicer Belgacem

Doctorate

APA

Sociology

Univ.setif2

Amokrane Abderezek

Doctorate SC

APB

Sociology

Univ.setif2

Lounis Ali

Doctorate

APA

Psychology

Univ.setif2
Laboratory Publications LPC
New Releases
1-
بعنوان الجلد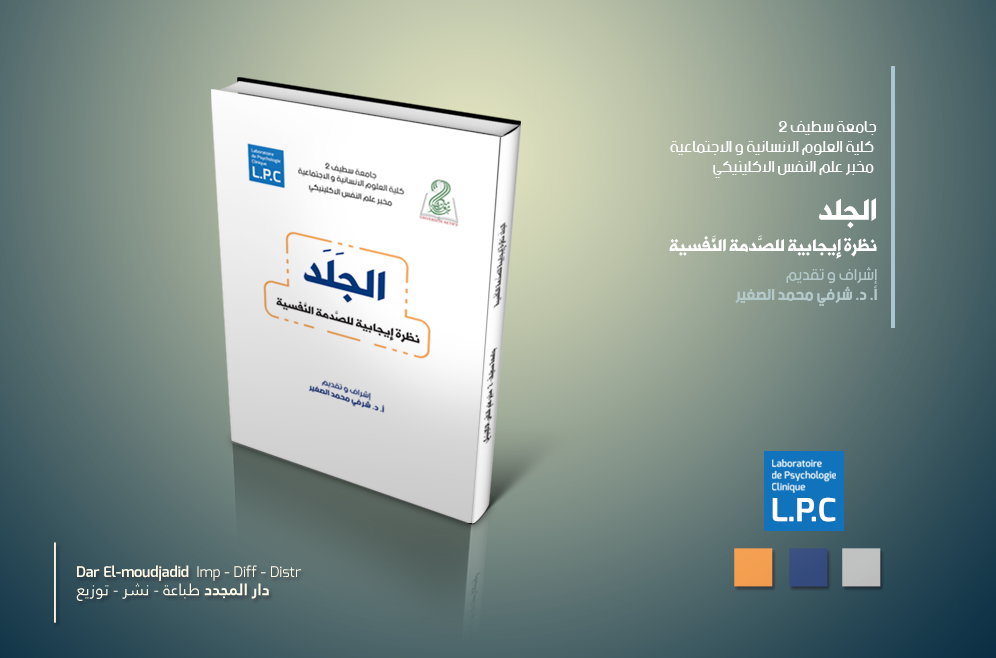 2- Psychological Pressure and Coping Strategies