Rector: Pr. Guechi Khier
Phone number: 036 661126 Fax: 036 661126
University Administration Council
The Administration Council examines and suggests any measure meant to improve the functioning of the university and promote the achievement of its objectives.
University Scientific Council
The scientific council proposes policy orientations of technical and scientific research, documentation of the university, and provides opinions on all other educational and scientific matters that are submitted to it by its Rector.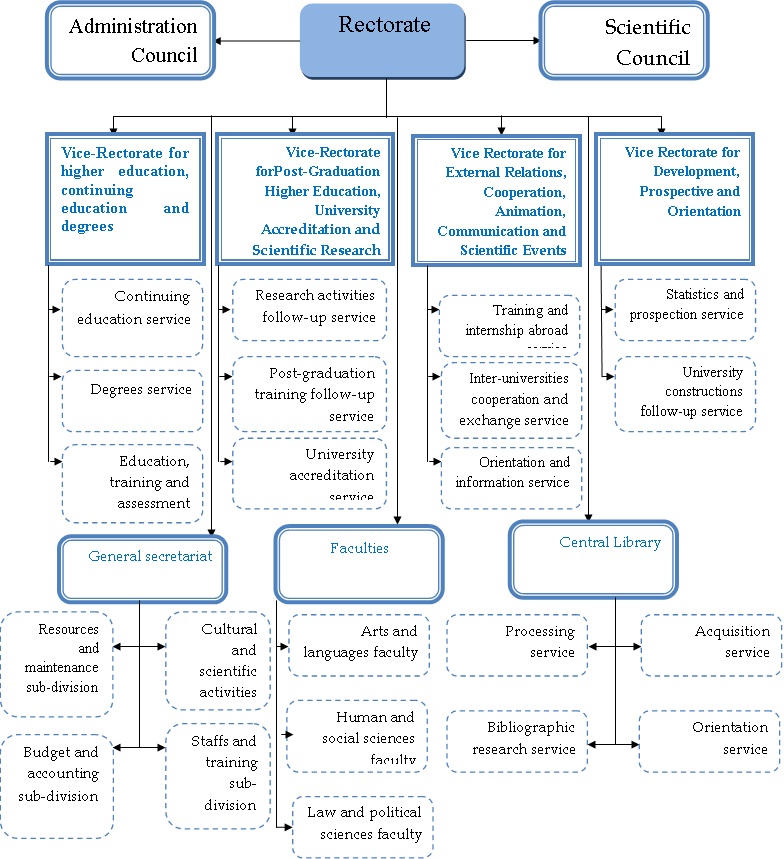 General-Secretary: Ouiz Bader el dinne

PHONE NUMBER: 036 661123 FAX: 036 661123
E-mail:
This email address is being protected from spambots. You need JavaScript enabled to view it.
The General Secretary is responsible for:
Ensuring university staff career management in accordance with the faculty and institute attributions in the field,

Preparing the university draft budget and following-up its implementation,

Ensuring laboratories and research units activities financing follow-up,

Ensuring the proper functioning of the university's common services,

Implementing University's cultural and sports activities programs and their promotion

Ensuring university's internal security plans coordination in relation to the ministerial office of internal security,

Ensuring Rectorate archives and documentation management and conservation,

Ensuring university registry office functioning and management.
Sub-divisions:
Staff and training sub-division

Budget and Accounting sub-division

General resources and maintenance sub-division

Cultural, scientific and sports activities sub-division

Information and communication networks and systems center